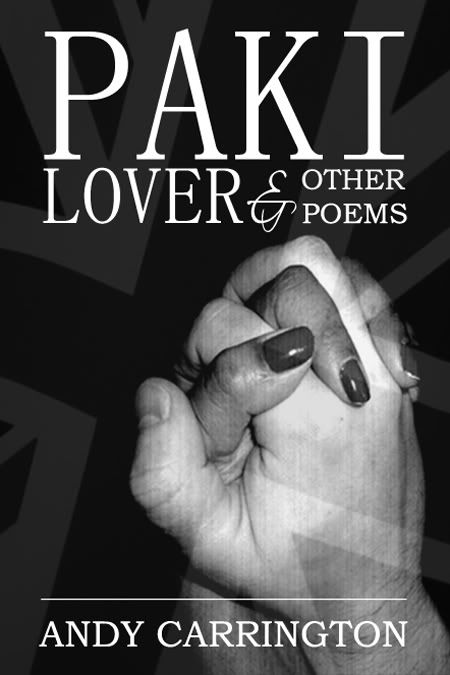 Paki Lover is a short chapbook by Andy Carrington, an aspiring poet from the UK. While labelled as a poetry compilation, the experience of reading Paki Lover was more akin to reading stream of consciousness prose of the main character from Dostoevsky's Notes from Underground (albeit not with the same psychological depth or to same extents of depravity). Focused on his own experiences in modern British society, Carrington expresses a tone of apathy, cynicism, and utter disgust throughout his poems at the blatant racism, inequalities, and violent social rifts he perceives in the world around him.
Though frequently cutting his anger with doses of sarcasm and an even sometimes humorous tone, Carrington expresses a clear struggle with holding his own liberal beliefs in what he perceives as an overwhelmingly conservative and traditional society. Sickened by the racial intolerance and prejudice around him, the poet is met with ignorant opposition when he shares his views publicly, being called a "LIBERAL CUNT" (pg. 23), "PAKI LOVER" and "pro-immigration supporting / QUEER" (pg. 21). Carrington conveys a sense of internal conflict to stay true to his values while at the same time operate within society. He even struggles not internalize the discriminatory contexts he overhears, reads, and comes across every day, writing: "I betrayed my race" (pg. 25) in a seemingly sarcastic and somewhat defeated tone. A poem called Childhood Gone by contributing poet Chetna Patel illuminates the harsh reality of being a victim of the racism and bigotry that Carrington describes, with the poet wondering "Why did we move here?" The impacts of the ongoing discrimination faced by the poet are painfully evident in the poem's closing lines: "I'm barely even / eleven years old // By my childhood, / it would seem, / is already over."
Carrington alludes a few times throughout his poems to relying on drinking to ease the stress of his life, writing that he feels "content that this is my only / form of freedom and given right / as an individual" (pg. 10). Rather than resist his own lifestyle, he seems rather to embrace his "choice to scrape / by with limited means" as his "only / fucking viable alternative" to giving into the status quo of prejudice and societal illness that he perceives around him. Though Paki Lover may be a bit difficult to swallow for some readers, the chapbook does end on brighter, more hopeful note. In the last poem, The Fight for Love, Carrington expresses the truths he holds dear to his heart. Quoting the words of someone close to him, he writes: "'The division of colour, / the division of class, / they're both false; // the only real and true / thing here…is love'"

concluding that he's "not ashamed / now to say that I think / you may be right" (pg. 27). Despite all lines of discrimination in society and his own internal conflicts, the poet comes back to his ideals and chooses to stand by his liberal values. For Carrington, it seems, there is a reason for hope in the future.